Zachary Galyen – zgalyen@gsqmap.com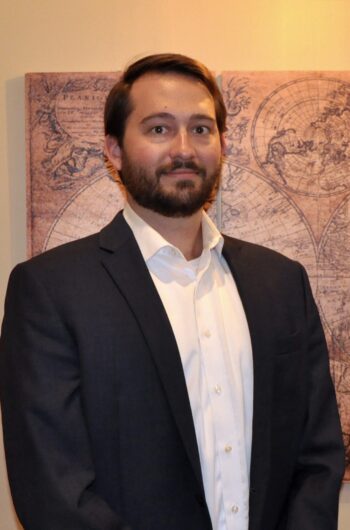 Mr. Galyen has relevant experience in photogrammetry, aerial photo interpretation, and stereo imagery analysis. Mr. Galyen earned a BS in Geography in 2016. Relevant courses include: Maps and Map Interpretation, Urban Geography, Economic Geography, and Geography Internship. His intern experience was with G-Squared and was performed during the summers from 2010-2015. During this time, he gained proficiency using the Intergraph software applications ISSD Stereo Display and ISDC DTM data collection. He performed aerial photographic interpretation, compiled Stereo Imagery for counties in Alabama such as Tuscaloosa, Florence and Cullman, worked with stereographic imagery, and performed quality control and error identification.
As an in-house Project Manager, Mr. Galyen is responsible for interacting with clients, writing work orders to be followed by the production department, and implementing work orders.
2015 Orthophotography, Planimetric Features and DTM Update, Tuscaloosa County, Alabama
Mr. Galyen compiled stereo imagery on this project to update the 450 square mile eastern portion of the county and a diagonal flight of the 2011 tornado path. G-Squared collected Airborne GPS-controlled aerial photography to support generation of digital orthophotography and topographic mapping, developed the analytical triangulation solution, and updated the digital elevation model.
2013 Orthophotography and Planimetric Mapping Update, Cullman County, Alabama
Mr. Galyen compiled stereo imagery on this 755 square miles' countywide project to update orthophotography and planimetrics features.
2013 Orthophotography and Planimetric Feature Update for Lauderdale County, Alabama
Mr. Galyen compiled stereo imagery on this joint project between the City of Florence, AL and Lauderdale County, AL. G-Squared performed aerial photography, airborne and ground GPS survey, digital orthophotography, photogrammetric compilation, topographic mapping, and image processing 719 square miles (the entire county), of which 191 square miles had 2-foot contour intervals throughout. Mapping scales of 1″=100′, 1″=200′ for color orthophotography, planimetric, and topography were delivered.
Education:
University of North Alabama, Bachelors of Science, Geography
Memberships:
American Society of Photogrammetry and Remote Sensing (ASPRS)
Tennessee Geographic Information Council (TNGIC)
Certifications:
Certificate in Geographic Information Systems
Georeferencing Raster Data Using ArcGIS Esri Certificate, 2015
Learning ArcGIS Desktop (for ArcGIS 10.0) Esri Certificate, 2015
Address Geocoding with ArcGIS Esri Certificate, 2015
Managing Lidar Data in ArcGIS 10 Esri Certificate, 2015
Using Lidar Data in ArcGIS 10 Esri Certificate, 2016
3D Analysis of Surfaces and Features Using ArcGIS 10 Esri Certificate, 2016